Navy Buoy Moorage - T and B Moorings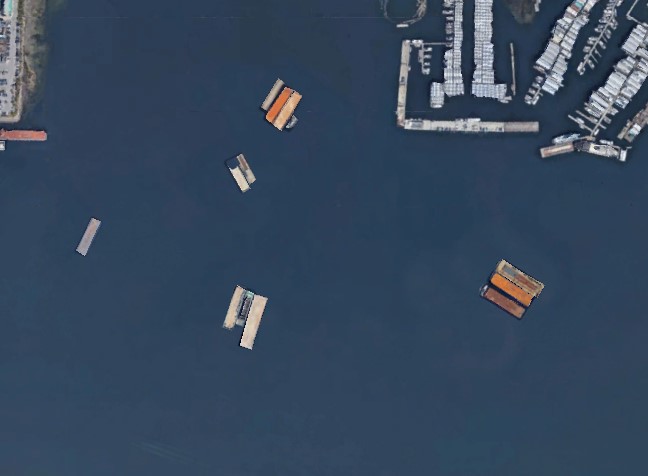 INFORMATION


The Council Of Marine Carriers administers the collection of fees and oversees the maintenance of the Navy Buoys on behalf of T. and B. Moorings. T. and B. Moorings does not carry insurance to cover any loss you may incur as a result of using the buoys, or to insure against damages incurred by your barge should it come adrift from the buoy or as a result of the buoy itself moving out of position. You are therefore advised that barges are moored at T. and B. Moorings buoys completely at the risk of the owner of the barge. Your barges are your responsibility and remain so while moored at the buoys. Neither T. and B . Moorings nor the Council of Marine Carriers take any responsibility for your barge, or for any damage your barge may cause, at any time while moored at our buoys. It is incumbent upon the owner of the barge to ensure that they are securely moored at all times and are maintained in a seaworthy condition.

Therefore, prior to using any of the Navy Buoys or the Kitsilano Buoy, you are required to name and waive T. and B. Moorings and the Council of Marine Carriers on your insurance policy and advise us that you have done the same. No uninsured property is to be moored at any buoy operated by T. and B. Moorings. No barges are to be moored at any T. and B. Moorings buoy unless you have advised the CMC office that you have named us on your insurance policy and provide proof of coverage as soon as possible.

The Navy Buoys and Kitsilano buoy were established as a communal facility, mainly for the use of Council of Marine Carriers member companies. As such their use is shared by barge owners and operators. In order for these moorings to be available to as many operators as possible, barges are permitted to be moored at T. and B. Mooring buoys for short periods only, mainly while barges are awaiting a dock or other mooring facility for longer term storage. Vessels other than barges are not permitted to moor at any buoy.


Reporting arrival/departure to Navy Buoys
Please use the form at this
link to report Arrival/Departure.

GENERAL RULES

These rules equally apply to the use of the Navy Buoys and to the Kitsilano Mooring Buoy;
1. All barges secured at the buoys must have adequate Liability and Wreck Removal insurance.
2.. T. and B. Moorings and the Council of Marine Carriers are to be named as an additional insured party on barge insurance policies.
3. The buoys are for short term storage only. Operators mooring barge(s) on a buoy for longer than one week must advise the CMC and acknowledge a premium rate will apply for each day or part of a day that the barge is moored. See Moorage rates below.
4. Oil barge moorage at the buoys is strictly prohibited.
5. No cargo operations are permitted to take place whilst moored at any buoy.
6.. Barges secured at the Buoys remain in the care and custody of the tug and/or the company securing the barge to the buoys. Neither T. and B. Moorings nor CMC assume any responsibility for any barge moored at the buoys.
7.All lines used to secure barges at the Navy Buoys and the Kitsilano Buoy are to be of good quality and condition and to be of sufficient strength, diameter and of appropriate length to ensure mooring is maintained throughout the length of stay at the buoy.
8. Any cargo overhanging the perimeter of the barges must be lit.
9. Operators must self-report all barges arrivals and departures immediately through the CMC electronic reporting form on our website under services It is the towing tug or company dispatch that must report the activity, not the barge owner unless they are one and the same.
10. A buoy status report can be found on the CMC website under services.

Mooring procedures

The following procedures and limitations apply to all buoys;

a. There are to be no more than four barges moored to a buoy either directly or rafted to another barge moored to the buoy, at any time. .In emergencies and for the short term operational requirements, if a fifth barge must be secured to any buoy when there is no space available at the other buoys, a tug or security vessel must remain in attendance alongside the barge for the duration of the stay.
b. Whenever possible, standing buoy lines are to be used for securing the barges to the buoys.
c. Buoy lines are to be secured to the bow or stern of barges.
d. Bouy Lines must be led through a chock or fairlead, if fitted on the barge. If no such fittings exist, all deck edges where bouy lines are run, must be rounded , or fitted with a softened material to avoid chafting of the bouy lines.
e.. Buoy lines shall not be secured to the side deck mooring fixtures of barges.
f. There is to be a minimum of one bow line and one stern line between barges secured to the Navy Buoys.
g. Rafted barges (i.e. a barge secured with no buoy lines, alongside a barge which is secured directly to a buoy) shall utilize a minimum of 4 lines between barges. These lines will consist of a bow line, two spring lines and a stern line.
h. Rafted barges shall be positioned so that their forward ends are aligned with one another.
i. If standing lines are unavailable at a buoy, it is the towing Master's responsibility to ensure that the barge they are securing to is safely moored and that their own barge is properly secured as described above.
see the barge diagram below for proper mooring arrangements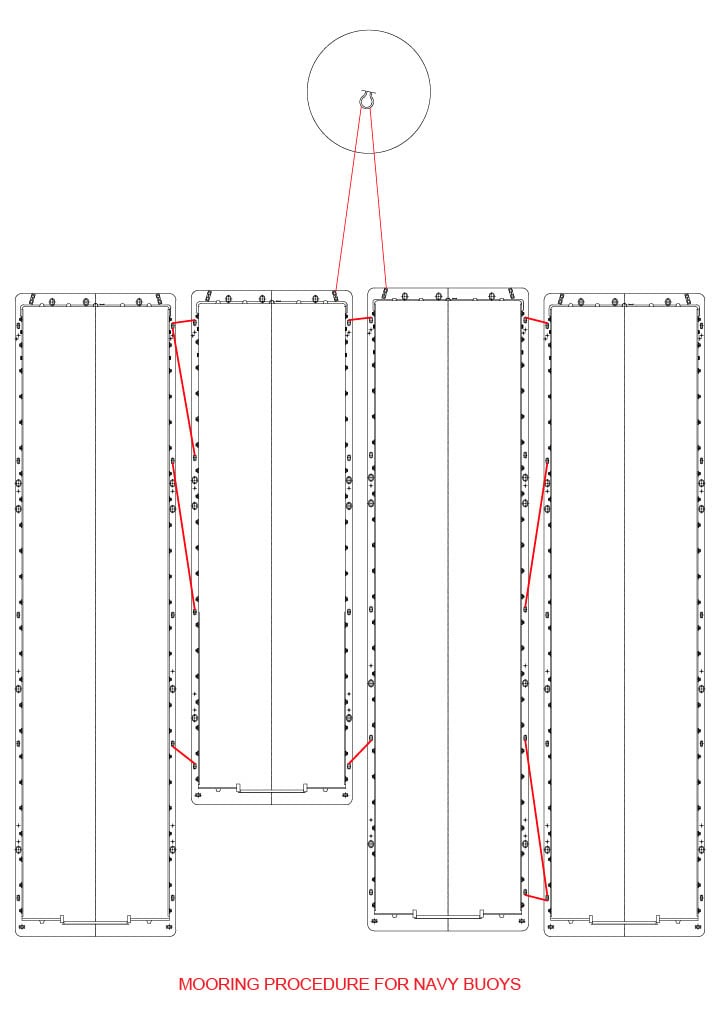 Note: Buoy lines are 2.25" 8 stranded lines of 35' in length.

Limitations to be observed

A. The following limitations apply to the specific buoys:
i. North Buoy – limited to barges of 67m (220') or less
ii. East Buoy – limited to barges of 106 m (350') or less
iii. South Buoy – limited to barges of 106m (350') or less
iv. West Buoy – limited to barges of 67 m (220') or less
No derelict barges are permitted to be moored at the buoys at any time.
All barges must be in a safe and seaworthy condition with proper boarding ladders and handrails.
All deck mooring fittings on barges must be clean, smooth and free of any heavy rust, scale or grooved surfaces.
All hatches and manholes are to properly closed and secured.
Barges with raised foredecks exceeding 7.6m (25') shall not be secured to the buoys
B. When winds are forecast to blow out of the west, southwest or northwest exceeding 20 knots, Kits buoy will be closed for barge moorage. This will be an automatic closure and no notice will be provided by T and B Moorings or the Council of Marine Carriers.
MOORAGE RATES
NAVY BUOY MOORAGE RATES- 2022
Daily Moorage rates for the Vancouver Harbour Navy Buoys and Kits Buoy (the Buoys)
| | | |
| --- | --- | --- |
| Barge length | CMC Members | Non-CMC Members |
| 200' or less | $16.00 | $75.00 |
| Over 200' | $32.00 | $150.00 |
• Rates are based on a per calendar day basis and not prorated.
• Extended moorage surcharge: Barges moored continuously in excess of 7 days are subject to a $500/day surcharge in addition to the posted daily rates.
• T. and B. Moorings reserves the right to deny moorage or apply a surcharge to Operators for the following reasons.
Non-Compliance with the Navy Buoy Moorage requirements
Non-Compliance with Navy Buoy Insurance requirements
Operators Accounts in arrears for more than 6 months
• Daily Moorage Rates subject to change at the discretion of the Directors of T. and B. Moorings.